Igniting Curiosity & Inspiring Support | XPRIZE Adventure + Innovation Experience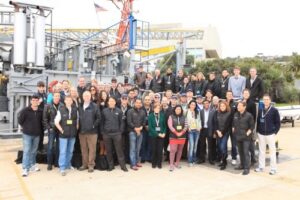 On an extraordinary four-day "camp," for the XPRIZE Foundation, I had the honor of combining a few of my passions: ocean and space exploration, connecting people, and creating an unforgettable experience.
As the curator & exploration consultant for XPRIZE Foundation's Innovation & Adventure Summit, it was my pleasure to introduce around 60 high net-worth individuals to my exploration friends at SCRIPPS Institute Oceanography, Zero Gravity Corporation, Mojave Air + Space Port and Space X – igniting their curiosity with cutting-edge innovations in sea + space. Peter Diamandis asked me to curate and help host this exciting event, which was incredibly fun to arrange.
Our epic adventure kicked off with a dinner hosted by the one and only Paul Jacobs, CEO of Qualcomm. The next day we started at SCRIPPS Institution, where we explored FLIP – and some incredible underwater robotics and ocean exploration technologies! Led jointly by two extraordinary scientists, Sylvia Earle and Dave Gallo, this was an experience like no other. I absolutely love Sylvia and Dave; this was a great chance to work together again.
After lunch, Dr. J Craig Venter – the mind behind Synthetic Genomics- took us through his revolutionary greenhouse labs, showing how he's leading humanity into the age of synthetic biology regarding food production and future fuel sources! Capping our magical journey were 2 Zero-G flights, each giving 15 parabolas for seven whole minutes of weightlessness!
The next morning we flew directly to Mojave, California. Our exploration of the Mojave Air & Spaceport was out of this world! We explored some of the most cutting-edge rocket companies, including Masten Aerospace, XCOR Aerospace and Scaled Composites, where SpaceShipOne made history. Then George Whitesides (CEO at Virgin Galactic) kindly gave us an exclusive tour around their factory! Afterward, we experienced Paul Allen's Strato-Launcher facility before sitting down for lunch alongside Astronaut Pilot Brian Binnie, a veteran Astronaut Pilot who flew the winning flight for the $10M Ansari X PRIZE.

Our day's journey reached its summit as FOX Films graciously invited us all out for an evening screening hosted by none other than Jim Gianopulos himself; Chairman and CEO over at Fox Studios. It was truly something special and a fabulous end to the day.
Our final day was topped off by this remarkable event, Elon Musk gave us a tour of Space X himself! Talk about inspiring!
After experiencing all these innovations and meeting all the innovators over four days, these business leaders were so excited by what they saw they gave over $3 million dollars to support the foundation's mission.
Learn more about the XPRIZE Foundation. Book a flight with Zero G.